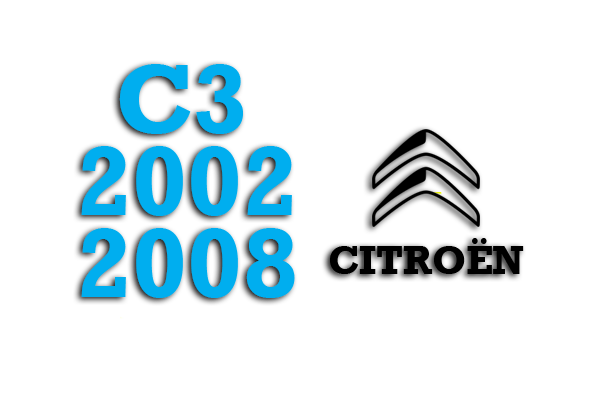 Citroën C3 2002, 2003, 2004, 2005, 2006, 2007, 2008 Fuse Box Diagram
Fuse box location: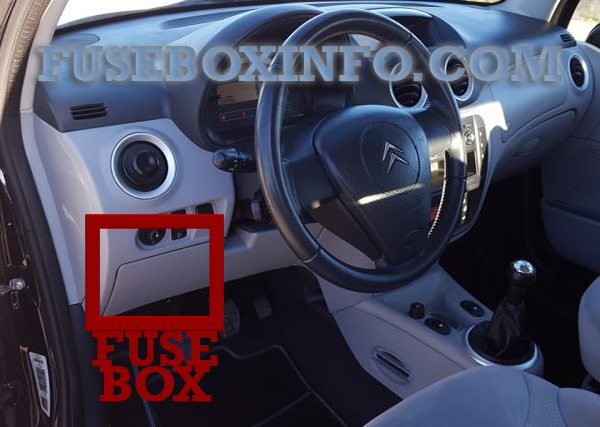 The fuse box is located in the lower glovebox compartment. To access the fuses, open the glove box, pull the handle on the fuse box cover.
Engine compartment fusebox: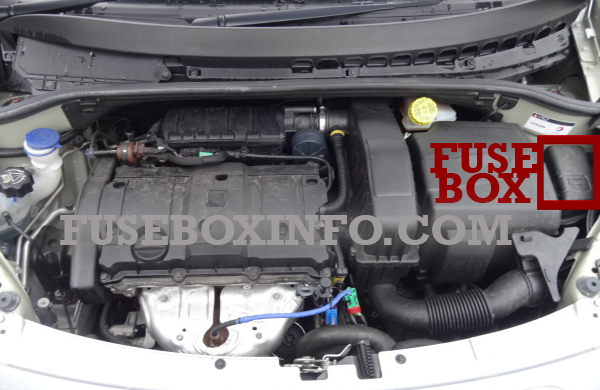 To access the fusebox located in the engine compartment, remove the battery cover and detach the lid.
Fuse Box Diagram | Layout
Dashboard fuses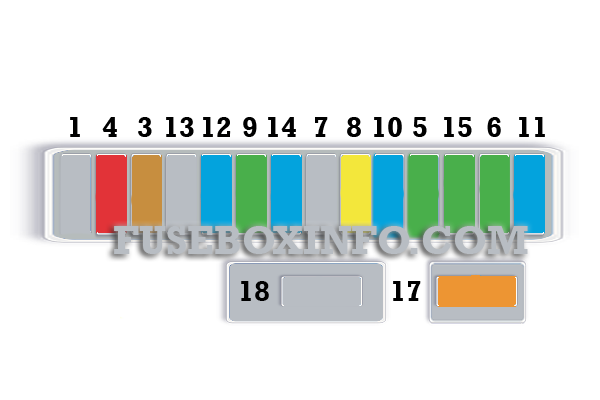 | | | |
| --- | --- | --- |
| Fuse N° | Rating | Functions |
| 3 | 5 A | Airbags |
| 4 | 10 A | Diagnostic socket – Particle fi lter additive – Clutch switch – Steering angle sensor |
| 5 | 30 A | Rear window – Sun roof |
| 6 | 30 A | Screen wash |
| 8 | 20 A | Digital clock – Controls at the steering wheel – Radio – Display |
| 9 | 30 A | Cigar-lighter – Digital clock – Interior lamps – Vanity mirror |
| 10 | 15 A | Alarm |
| 11 | 15 A | Ignition switch – Diagnostic socket |
| 12 | 15 A | Airbag ECU – Rain and brightness sensor |
| 14 | 15 A | Parking assistance – Instrument panel – Air conditioning – Bluetooth® telephone |
| 15 | 30 A | Central locking – Deadlocking |
| 17 | 40 A | Heated rear screen |
| 18 | SHUNT | CUSTOMER PARK SHUNT |
Engine compartment fusebox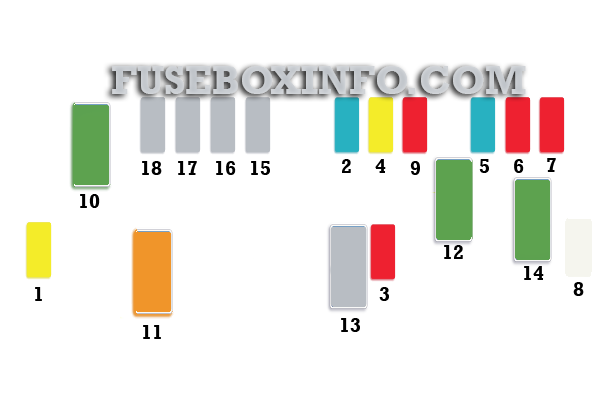 | | | |
| --- | --- | --- |
| Fuse N° | Rating | Functions |
| 1 | 20 A | Water-in-diesel-fuel sensor |
| 2 | 15 A | Horn |
| 3 | 10 A | Screen wash |
| 4 | 20 A | Headlamp wash |
| 5 | 15 A | Fuel pump |
| 6 | 10 A | Power steering |
| 7 | 10 A | Coolant level sensor |
| 8 | 25 A | Starter |
| 9 | 10 A | ECUs (ABS, ESP) |
| 10 | 30 A | Engine control actuators (Ignition coil, Electrovalve, Oxygen sensor, Injection) – Canister purge |
| 11 | 40 A | Air blower |
| 12 | 30 A | Windscreen wiper |
| 14 | 30 A | Air pump (petrol version) – Diesel fuel heater |