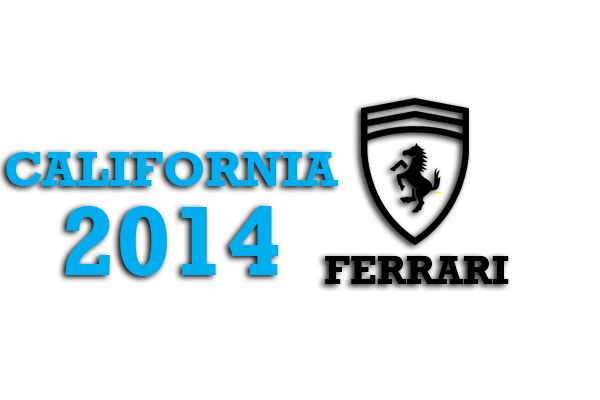 Ferrari California 2014 Fuse Box Info
Passenger compartment fuse box location: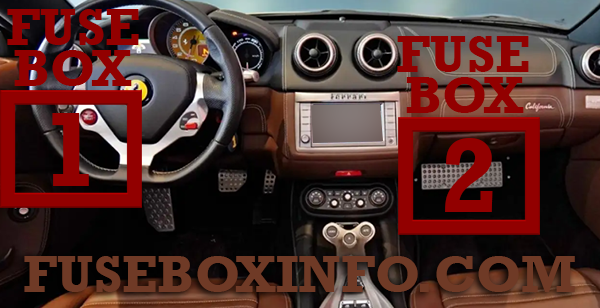 The fuse box 1 is located at the left side of the steering column at the bottom of the instrument panel, behind the cover. The fuse box 2 is located on the right side below the foot board.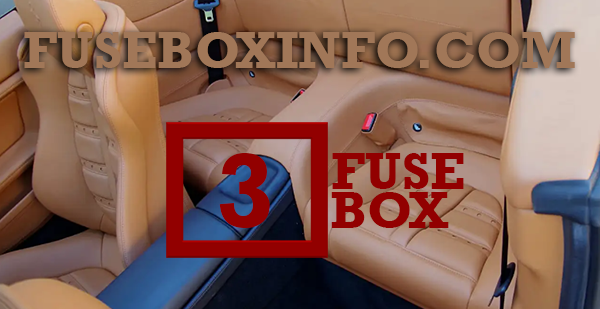 The fuse box 3 is located under flap on the centre console.
Engine compartment fuse box location: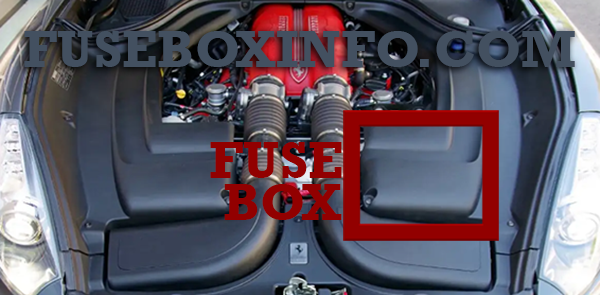 Fuse Box Diagram | Layout
Passenger compartment fuse box 1:
| | | |
| --- | --- | --- |
| Fuse/Relay N° | Rating | Functions |
| F12 | 15A | Right high beam |
| F13 | 15A | Left high beam |
| F31 | 7.5A | AC unit, body computer connector |
| F32 | 10A | Dome lights, foot well and puddle lights, side markers, supplementary taillights |
| F35 | 7.5A | Clutch pedal control, Cruise control, Power steering, Beams |
| F36 | 10A | Satellite alarm system, parking sensors, fuel filler flap |
| F37 | 10A | Stop light control |
| F38 | 15A | Luggage compartment lock |
| F39 | 15A | Radio, diagnosis socket, CAN box interface |
| F40 | 30A | Heated rear window |
| F42 | 7.5A | Alternator |
| F43 | 30A | Windscreen wipers |
| F44 | 20A | Passenger seat heating, cigarette lighter |
| F46 | 20A | Hard top |
| F47 | 30A | Driver-side door |
| F48 | 30A | Passenger-side door |
| F49 | 75A | Passenger compartment lighting switches and controls |
| F50 | 7.5A | Air bags |
| F51 | 7.5A | Semi-automatic gearbox, engine start button |
| F52 | 15A | Power socket, driver seat heating |
| F53 | 10A | Instrument panel |
| T01 | 20A | Low beam relay |
| T11 | 30A | Heated rear screen relay |
| T12 | 30A | Relay services 1 |
| T13 | joint | Supply jumper services 2 |
Passenger compartment fuse box 2:
| | | |
| --- | --- | --- |
| Fuse/Relay N° | Rating | Functions |
| F01 | 60A | +30 Radiator fans (first speed) |
| F02 | 30A | +30 ABS (valves) |
| F03 | 30A | +30 Ignition switch |
| F04 | 50A | +30 ABS (pump) |
| F05 | 40A | +30 Air conditioning and heating system |
| F06 | 50A | +30 Radiator fans (second speed) |
| F07 | 20A | +30 Horns |
| F08 | 7.5A | Air conditioning and heating system compressor |
| F09 | 7.5A | +30 Supplementary stop lights |
| F10 | 15A | +30 luggage compartment lock relay |
| F11 | 25A | Left bank oxygen sensor |
| F14 | 15A | +30 high beams |
| F15 | 7.5A | +30 alternator sensing |
| F16 | 25A | +30 Right bank engine control power supply |
| F17 | 25A | +30 Left bank engine control power supply |
| F18 | 10A | +30 Left cylinder bank injection system power supply, LH cylinder bank injection main relay coil |
| F19 | 10A | +30 Right cylinder bank injection system power supply, RH cylinder bank injection main relay coil |
| F20 | 30A | +30 right injection system main relay |
| F21 | 15A | +30 Fuel pump 2 |
| F22 | 15A | Left bank (ignition coil) |
| F23 | 10A | +30 ABS (electronic) |
| F24 | 15A | Right bank (ignition coil) |
| F30 | 30A | +30 Starting relay |
| F81 | 40A | +30 Supplementary ECU power supply |
| F82 | 70A | +30 Dashboard ECU and luggage compartment ECU power supply |
| F83 | 50A | +30 Air pump relay |
| F84 | 15A | +30 Fuel pump relay 1 |
| F85 | 25A | Headlight washer |
| F87 | 25A | Right bank oxygen sensors |
| F88 | 10A | +15 Left cylinder bank injection system |
| F93 | 30A | +30 suspension control node fuse |
| T02 | 30A | High beam relay |
| T05 | 30A | Fuel pump relay 2 |
| T06 | 30A | Luggage compartment lock actuator relay |
| T07 | 50A | Horn relay |
| T08 | 30A | Air conditioning and heating system compressor relay |
| T09 | 30A | Left cylinder bank injection system main relay |
| T10 | 30A | Right cylinder bank injection system main relay |
| T14 | 30A | Fuel pump relay 1 |
| T15 | 50A | Radiator fan relay (second speed) |
| T16 | 50A | Radiator fan relay (first speed) |
| T17 | 10/20A | INT/A relay (devices excluded at ignition) |
| T19 | 30A | Stop light control relay |
| T20 | 30A | Starting relay |
| T26 | 30A | Windscreen wiper relay (first speed) |
| T27 | 30A | Windscreen wiper relay (second speed) |
| T28 | 30A | Windscreen washer pump relay |
| T29 | 30A | Supplementary stop light relay (third stop light) |
| T30 | 50A | Air pump relay |
| T31 | 30A | Headlight washer pump relay |
| T37 | 30A | Left supplementary taillight relay |
| T38 | 30A | Left headlight LED module power supply relay |
| T39 | 30A | Right headlight LED module power supply relay |
Passenger compartment fuse box 3:
| | | |
| --- | --- | --- |
| Fuse/Relay N° | Rating | Functions |
| F54 | 2.0A | +30 HI-FI amplifier |
| F56 | 30A | +30 Driving position |
| F57 | 7.5A | Side Markers 1 (LH front and RH rear) |
| F59 | 7.5A | Reverse lights |
| F60 | 30A | +30 Passenger position |
| F61 | 7.5A | +30 Driving position (electronic) |
| F62 | 7.5A | +30 Passenger position (electronic) |
| F63 | 15A | +30 Semi-automatic gearbox main relay |
| F64 | 7.5A | Fuel filler flap actuator |
| F65 | 20A | Door lock actuator |
| F66 | 7.5A | +30 Semi-automatic gearbox |
| F67 | 7.5A | Side Markers 2 (RH front and LH rear) |
| F78 | 15A | +30 Battery charger |
| F80 | 30A | +30 BassBox amplifier |
| T21 | 50A | Side Marker relay |
| T22 | 30A | Reverse light relay |
| T23 | 30A | Fuel filler flap relay |
| T24 | 30A | Supplementary taillight relay |
| T25 | 30A | Semi-automatic gearbox main relay |
Engine compartment fuse box:
| | | |
| --- | --- | --- |
| Fuse/Relay N° | Rating | Functions |
| CAL2 | CAL2 | Power supply (starter motor and alternator) |
| F70 | 150A | Power supply and engine relay |
| F71 | 40A | Hard top pump |
| F72 | 40A | Parking brake power |
| F73 | 70A | Dashboard ECU power |