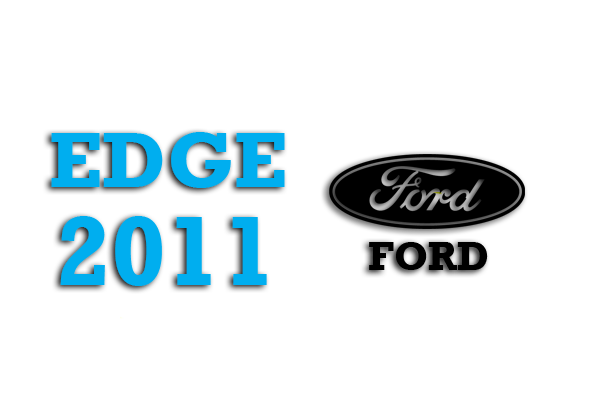 Ford Edge 2011 Fuse Box Info
Fuse box location: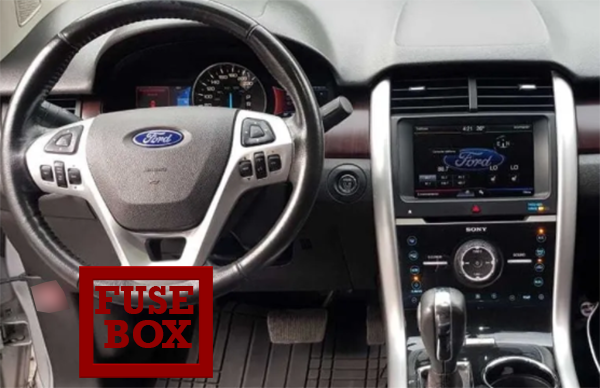 The fuse panel is located behind a trim panel on the left side of the driver's footwell near the parking brake. To remove the trim panel, slide the release lever to the right then pull the trim panel out. To remove the fuse panel cover, press in the tabs on both sides of the cover, then pull the cover off.
Engine compartment fuse box: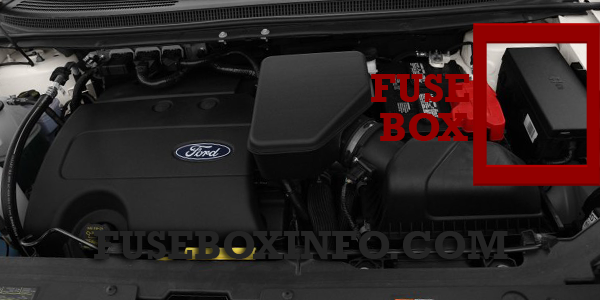 The power distribution box is located in the engine compartment.
Fuse Box Diagram | Layout
Passenger compartment fuse box:
| | | |
| --- | --- | --- |
| Fuse/Relay N° | Rating | Functions |
| 1 | 30A | Driver front smart window |
| 2 | 15A | Not used (spare |
| 3 | 30A | Not used (spare |
| 4 | 10A | Demand lamps |
| 5 | 20A | Not used (spare |
| 6 | 5A | RF module |
| 7 | 7.5A | Power mirror switch, Memory seat switch, Driver seat module |
| 8 | 10A | Not used (spare) |
| 9 | 10A | Power liftgate |
| 10 | 10A | Run/accessory relay |
| 11 | 10A | Instrument panel cluster, Heads-up display |
| 12 | 15A | Interior lighting, Puddle lamps, Backlighting |
| 13 | 15A | Right turn/stop lamps and turn signals |
| 14 | 15A | Left turn/stop lamps and turn signals |
| 15 | 15A | Reverse lamps, Stop lamps, High-mounted stop lamps |
| 16 | 10A | Low beam headlamps (right) |
| 17 | 10A | Low beam headlamps (left) |
| 18 | 10A | Keypad illumination, Brake shift interlock (BSI), Passenger compartment fuse panel, Start button LED, Passive anti-theft system (PATS), Powertrain control module (PCM) wake-up, 2nd row power enable |
| 19 | 20A | Amplifier/subwoofer (Sony) |
| 20 | 20A | Lock/unlock relays – vehicles without intelligent access (IA) |
| 21 | 10A | Not used (spare) |
| 22 | 20A | Horn relay |
| 23 | 15A | Steering wheel control, IA, Headlamp switch |
| 24 | 15A | On-board diagnostics (OBDII) |
| 25 | 15A | Liftgate release |
| 26 | 5A | Global positioning system (GPS) module |
| 27 | 20A | IA |
| 28 | 15A | Ignition switch (without IA), Key inhibit solenoid, Push button start (with IA) |
| 29 | 20A | Radio, Multi-function display screen, Electronic finish panel, SYNC module |
| 30 | 15A | Front park lamps |
| 31 | 5A | Not used (spare) |
| 32 | 15A | Lock switch backlighting, Moon roof, Power windows, Compass/auto-dimming rear view mirror |
| 33 | 10A | Not used (spare) |
| 34 | 10A | Reverse sensing system, Rearview camera, Blind spot monitor |
| 35 | 5A | Heads-up display, Headlamp leveling |
| 36 | 10A | Not used (spare) |
| 37 | 10A | Climate control |
| 38 | 10A | Not used (spare) |
| 39 | 15A | High beam headlamps |
| 40 | 10A | Rear park lamps |
| 41 | 7.5A | Occupant classification sensor (OCS), Restraints control module |
| 42 | 5A | Grade assist control switch |
| 43 | 10A | Not used (spare) |
| 44 | 10A | Not used (spare) |
| 45 | 5A | Not used (spare) |
| 46 | 10A | Climate control |
| 47 | 15A | Not used (spare) |
| 48 | 30A Circuit Breaker | Power windows/moon roof |
| 49 | - | Delayed accessory relay |
Engine compartment fuse box: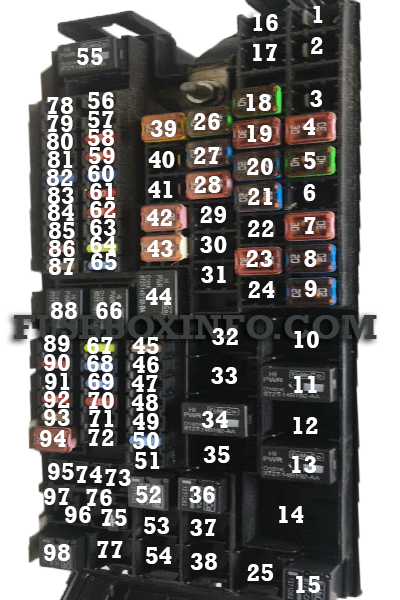 Fuse/Relay N°
Rating
Functions
1
-
Not used
2
-
Not used
3
-
Not used
4
30A**
Wipers
5
40A**
Anti-lock brake system (ABS) pump
6
-
Not used
7
30A**
Power liftgate
8
20A**
Moon roof
9
20A**
Power point #2 (console rear)
10
-
Not used
11
-
Rear window defroster/heated mirror relay
12
-
Not used
13
-
Starter relay
14
-
Not used
15
-
Fuel pump relay
16
-
Not used
17
-
Not used
18
40A**
Blower motor
19
30A**
Starter motor
20
20A**
Power point #1 (console bin)
21
20A**
Cargo area power point
22
-
Not used
23
30A**
Driver seat module
24
-
Not used
25
-
Not used
26
40A**
Rear window defroster
27
20A**
Front power point/lighter
28
30A**
Climate controlled seats
29
-
Not used
30
-
Not used
31
-
Not used
32
-
Not used
33
-
Not used
34
-
Blower motor relay
35
-
Not used
36
-
Rear seat relay
37
-
Right trailer tow (TT) stop/turn lamps relay
38
-
Not used
39

40A**

60A**

Cooling fan (vehicles with TT)

Cooling fan (vehicles without TT)

40
40A**
Cooling fan (TT only)
41
-
Not used
42
30A**
Passenger seat
43
30A**
ABS valves
44
-
Rear washer relay
45
5A*
Rain sensor
46
-
Not used
47
-
Not used
48
-
Not used
49
-
Not used
50
15A*
Heated mirror
51
-
Not used
52
-
Stop lamp relay
53
-
Left TT stop/turn lamps relay
54
-
Not used
55
-
Wiper relay
56
-
Not used
57
20A*
Left high-intensity discharge (HID) headlamps
58
10A*
Alternator sensor
59
10A*
Brake on/off switch
60
15A*
Stop lamps
61
10A*
Rear seat release
62
10A*
A/C clutch
63
15A*
TT stop/turn lamps relay
64
20A*
Rear wiper motor
65
15A*
Fuel pump
66
-
Powertrain control module (PCM) relay
67
20A*
Vehicle power (VPWR) #2
68
15A*
VPWR #4
69
15A*
VPWR #1
70
10A*
A/C relay, All-wheel drive module
71
-
Not used
72
-
Not used
73
-
Not used
74
-
Not used
75
-
A/C clutch diode
76
-
Not used
77
-
TT park lamps relay
78
20A*
Right HID headlamps
79
5A*
Adaptive cruise control
80
-
Not used
81
-
Not used
82
15A*
Rear washer
83
-
Not used
84
20A*
TT park lamps
85
-
Not used
86
7.5A*
PCM keep-alive, PCM relay
87
5A*
Run/start relay
88
-
Run/start relay
89
-
Not used
90
10A*
PCM
91
10A*
Adaptive cruise control
92
10A*
ABS module
93
5A*
Blower motor/rear defroster relay
94
30A*
Passenger compartment fuse panel run/start
95
-
Not used
96
-
Not used
97
-
Not used
98
-
A/C clutch relay
99

* Mini Fuses

** Cartridge Fuses